Soccer at St. Thomas More School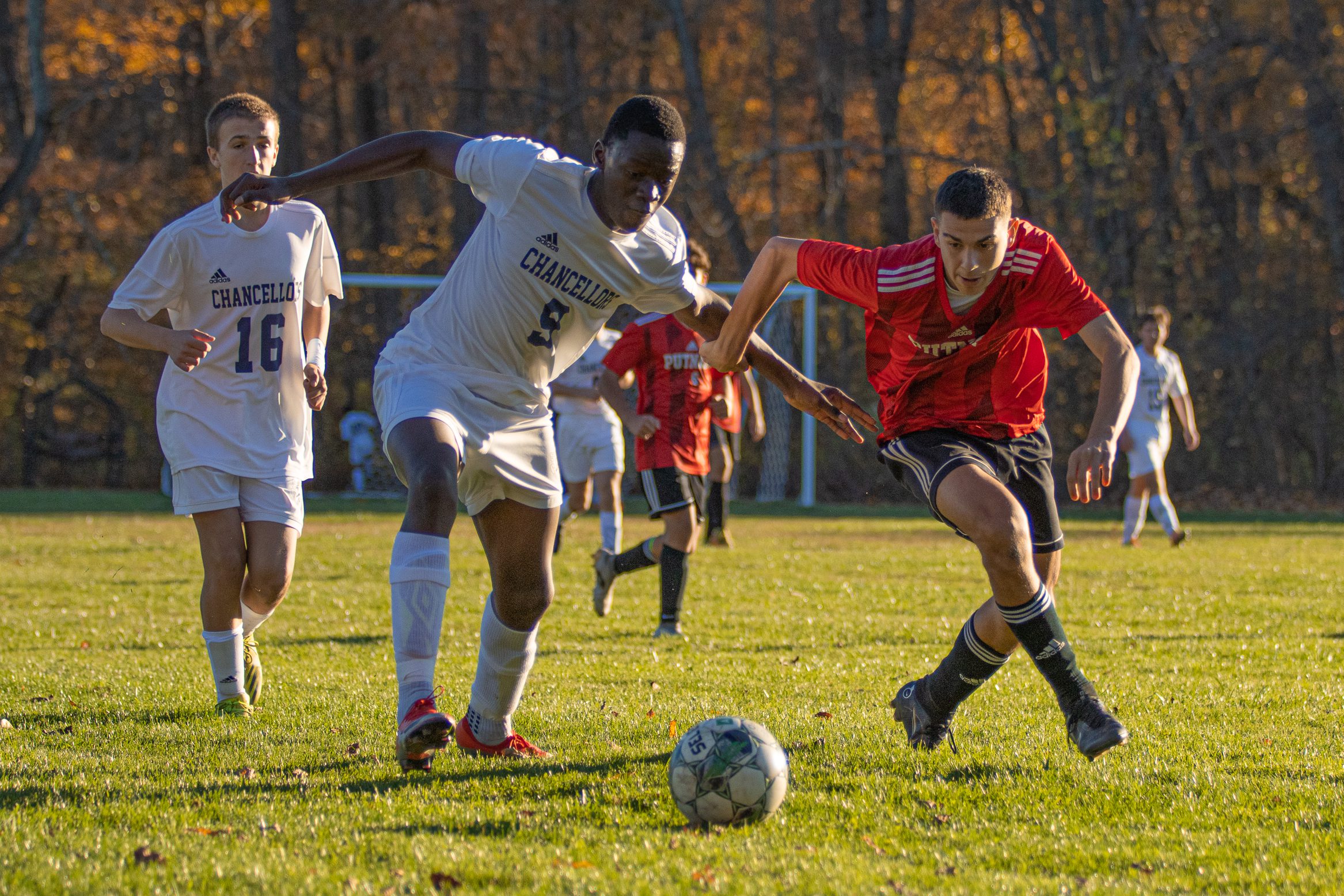 "My journey at STM has been the start of something amazing and I feel I am ready for the next chapter in my life."
- Adrian Almagro, 2020
"At STM I found a place where I could develop myself as an athlete, a student and most importantly, as a person."
- Malvin Madzimbamuto, 2021
Girls' Soccer Coach
Joseph Mendonça Jr.
Joseph Mendonça Jr. joins the Chancellors as the Head Coach of the girls' soccer team for the program's inaugural season. Mendonça brings a wealth of experience to St. Thomas More in playing, recruiting, training, coaching, and consulting at a diversity of levels throughout multiple decades. Mendonça played his collegiate soccer over the span of five seasons and split time
between The University of New Haven and Quinnipiac University, members of the NE-10 and NEC, respectively. After college, Mendonça transitioned to playing semiprofessional, where he competed as a member of the Las Vegas Strikers (MPSL) and Connecticut Academica (PASL/AISL).
Although coaching throughout his playing career, Mendonça pivoted towards teaching the game full-time after retiring from competing professionally. He served as the Head Assistant for The University of Bridgeport Women's Soccer and then as the Head Assistant for Trinity College Men's. Following the 2007 season, Mendonça accepted a position as Head Coach of Mercy College Women's Soccer.
In 2011, Mendonça founded Mendonça Soccer School in New London, CT, which still operates today. The Academy works with a large
variety of individuals and teams, creating and carrying out seasonal training programs focused on both individual and team development. The soccer school also works in collaboration with DOCA Futbol Academy, which aligns with yearlong premier teams that compete in state and regional leagues and tournaments.
From 2011-2018, Mendonça took on the role of Head Boys' Varsity Coach at Waterford High School. In his 7 years with the program, he
posted an 81-38-9 record and won 3 Division Championships as well as 3 Division Coach of the Year Selections. During this span, Mendonça also coached an Academic All-American, 4 All-New England Selections, 11 All-State players, 30 All-Conference players, 10 Senior Bowl Selections, a Senior Bowl MVP, 2 Area POY, and 15 All-Area players.
1997-2009 – Head Coaching Staff & Striker Director – No. 1 Soccer Camps
2001-2007 – Head Coaching Staff – Connecticut Olympic Development Program
2003 – Head Coaching Staff – Nevada Olympic Development Program
2005-2009 – Head Coaching Staff & Striker Director – FSA Soccerplus FC
2009-2010 – Head Coaching Staff – Rhode Island Olympic Development
Mendonça currently resides in Stonington, CT, where he lives with his wife, Erin, and his three children, Joseph, Stella, and Ezra.
Girls' Assistant Soccer Coach
Abigail Horner
Abigail Horner, a southeastern Connecticut native, comes to STM after a brief stint teaching and coaching at Grove School. She joins the Chancellors for their inaugural season as an assistant coach. Horner grew up playing soccer in East Lyme, CT. She started as a field player but quickly found her home in the goal. After high school, Horner went on to play at the collegiate level at the University of Saint Joseph, a NCAA DIII school located here in Connecticut. Coach Horner also fulfills roles as a dorm parent and teacher here at STM.
Get in Touch with the STM Soccer Program
BELIEVE
ACCOMPLISH
ACHIEVE
MORE
Reach Your Goals at St. Thomas More School