HEAD COACH
Ernest Anderson
Ernest Anderson is from Westchester County, NY. He played high school football at Valhalla High School. After high school, he completed a PG year at St. Thomas More School, where he won a championship. From there, he went on to play D3 football at Nichols College. In 2021, he was promoted from Assistant Football Coach at St. Thomas More School to replace former Head Football Coach Jason Manson.
Career Facts: Ernest Anderson
In 2012, Coach Anderson won a championship as DC at St. Luke's School.
Coach Anderson has won multiple city championships as OC at Stamford High School in Connecticut.
Coach Anderson was DC and Assistant Football Coach under Jason Manson before becoming the Head Coach in 2021.
Coach Anderson placed 18 players in college last year at all levels:
P5, Ivy, HBCU, FCS, D2/D3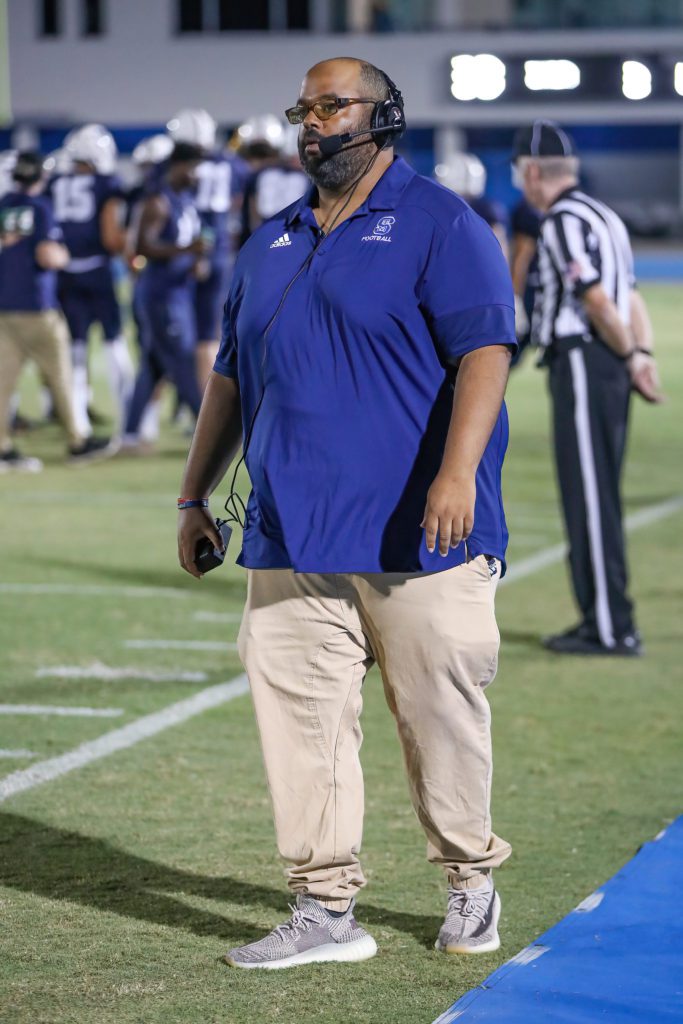 offensive Coordinator
Tucker Bachand
Tucker Bachand enters his second year as the Director of Strength & Conditioning at St. Thomas More. He is also an Assistant Football Coach for the Chancellors, working on the offensive side of the ball as the Offensive Coordinator after spending the past season as Special Teams Coordinator.

Prior to joining St. Thomas More, Bachand served as the Head Strength and Conditioning Coach at Central Methodist University in Fayette, Missouri. He trained many conference champions, All-Conference athletes, All-Americans, National Champions, and professional athletes in his time in Missouri.

Bachand also completed several strength and conditioning internships. His internship stints included stops at a number of high-level NCAA programs such as Yale University, University of Nevada Las Vegas, UConn, Central Connecticut State University, and East Tennessee State University.

Bachand is a Certified Strength and Conditioning Specialist (CSCS) through the National Strength and Conditioning Association. He has also earned certifications for CPR/AED and First Aid.

Bachand, a Connecticut native, earned his bachelor's degree in Health Promotion Studies from Western Connecticut University in May 2017 and also earned a Master of Education degree at Central Methodist in May 2021.
DEFENSIVE Coordinator
Khamarr Smith
Khamarr Smith rejoins the Chancellors for his second season as the Defensive Coordinator. Smith started his coaching career as the Special Teams Coordinator and Linebackers Coach at Capital Preparatory Harbor Charter School in 2015. For the 2016 season, he served in the same capacity, but took on additional responsibility during a Head Coaching vacancy. Khamarr was named Head Coach for the 2017 season and led the Harbor Sharks until the end of the pandemic season in 2020. During his 3-year tenure as Head Coach, more than 30 student-athletes earned opportunities to play football at the next level.
SPECIAL TEAMS COORDINATOR/secondaries COACH
Shawn Tafe
Shawn Tafe, a 2017 graduate of St. Thomas More, rejoined the Chancellors in the spring of '22 as the Secondaries Coach. Shawn spent the previous four years at the University of New Haven as one of the premier cornerbacks in the NE-10, where he received First-Team All-Conference honors in 2021. In Shawn's final season with the Chargers, he finished 5th on the team in tackles and 2nd in interceptions. In his post-graduate season with St. Thomas More, Shawn recorded 45 tackles and 8 interceptions. Shawn is also a dorm parent and physical education teacher.
DIRECTOR OF SPORTS PERFORMANCE AND WIDE RECEIVERS COACH
Jerry Boggs Jr.
Jerry Boggs Jr. (JB) is a former multi-sport high school athlete and college basketball player. His seven years of training experience are heavily concentrated in the sports performance field as it pertains to athlete development. Jerry Boggs is a Certified Exos Performance Specialist, stemming from a company heavily involved in professional athletes for a wide range of sports. He is educated and trained in utilizing innovative and up-to-date movement techniques, specifically endorsed by the NFL. Jerry has 3+ years of successfully managing his own sports performance training staff and has several clients currently at the Division I, II, and III collegiate levels, as well as the professional level in football, basketball, baseball, and women's track & field. He has been a S&C coach, as well as a football coach at STM for three years and has played an integral role in the athletic development of all student-athletes, as well as the development and success of the football team.
DEFENSIVE LINE COACH
James Glowa
James Glowa will be coaching the defensive line for both the 2022 spring and fall football seasons after finishing up his first season with the Chancellors in the fall of 2021. In Glowa's first season, he was responsible for working with the linebackers and assisting in lifts. Before joining St. Thomas More, Glowa attended Western Connecticut State University and played linebacker as a student-athlete. After leaving WCSU, he returned to his alma mater, Bristol Central, and spent two years as a linebackers and strength coach.
OFFENSIVE LINE COACH
Michael Brehon