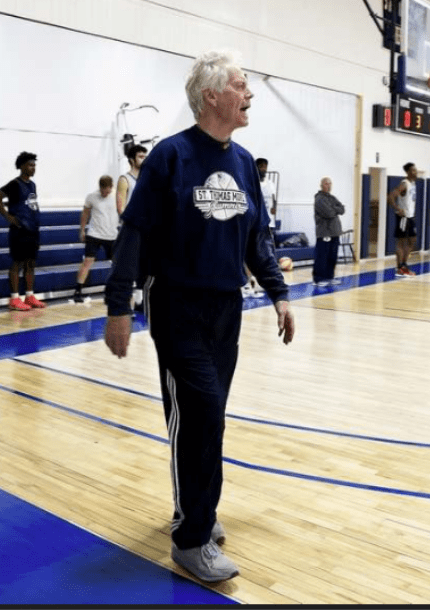 HEAD COACH
Jere Quinn
Jere Quinn was hired in 1978 to become the fourth head basketball coach at St. Thomas More School by the founder, James Hanrahan. Jere, originally from Queens, NY, played his high school basketball at Archbishop Molloy (73) for legendary coach Jack Curran and graduated as a member of the CHSAA New York City Championship Team. He played his collegiate basketball at Central Connecticut State University (77) for equally legendary coach Bill Detrick where he captained the team his junior and senior years as a point guard and still holds the single game (18) and single season assist record at the school. He graduated from Central Connecticut with a BA in Political Science and later received his Masters of Teaching from Sacred Heart University (90).
Coach Quinn was nominated to the Naismith Basketball Hall of Fame in 2018 and has been re-nominated several times since.
Over his forty-four years as a Head Coach at St. Thomas More School, Jere Quinn has finished all forty-five seasons with a winning record.
Coach Quinn has recruited over 650 students to play basketball at St. Thomas More School and has helped place the majority of these alumni on intercollegiate teams. It would be a challenge to find anyone in the history of the game who recruited and/or placed more student-athletes on college basketball teams. Fair estimates state he has helped over 450 athletes receive scholarships to attend college.
In the current Division 1 conference alignment, Coach Quinn has placed one of his players in all 32 of the 32 Division 1 conferences across the United States.
Alumni have played professionally in the United States, Europe, South America, Australia, Asia, the Middle East, and Canada. This past summer ('23) three alumni played and one alumnus coached in the FIBA World Basketball Cup. Coach has had 15 alumni play in the NBA, many alumni compete in the NBA developmental leagues and currently has over a forty alumni playing professionally around the world and the G league. Over the years, there have been at least 100 players who have competed professionally around the world.
Coach Quinn is a member of the New England Hall of Fame, had his 1991-92 New England Prep Championship team (31-1) inducted into the New England Basketball Hall of Fame, and is inducted to the 2018 CCSU Hall of Fame as a former player.
Coach Quinn won his 1,000th career victory on Wednesday, January 18 2018 at Worcester Academy. He has accumulated over 1100 wins–which equates to a little above 25 wins per season.
Coach Quinn has won five New England Championships and reached the finals 16 other times. His team won the National Prep School Championship in 2011 and has reached the finals on two other occasions and the final four on three and elite eight twice.
Coach Quinn has coached several Parade Magazine All-Americans, several National and Regional Michael Jordan All Americans. He has also coached a McDonald's All American, several Connecticut Gatorade Players of the Year, and has been a volunteer coach at several national All-American games and regional competitions.
Coach Quinn has been the founder and Director of the St. Thomas More Basketball camp which started in 1989. Entering his 35th year of camp, there have been over 7,000 boys and girls who have participated in the 2 separate weeks of camp held annually on the St. Thomas More campus
Associate Head COACH — HEAD OF PLAYER DEVELOPMENT
Milo Luciano
Milo Luciano is rejoining the Chancellors for his fourth season as both Associate Head Coach and Head of Player Development. In his time on the staff at St. Thomas More, Luciano has been responsible for scouting/personnel work and the individual development of STM basketball players.

Luciano began his coaching career in 2018 following a short playing stint at Indiana University of PA (IUP), as he returned to the Crimson Hawks in a player development capacity. Before IUP's season, Luciano spent the summer of '18 in Antwerp, Belgium working for Joerik Michiels at Elite Athletes, one of Western Europe's premier developmental academies. During his time with EA, he assisted with and collaborated in individual and small-group workouts--as well as coached a u18 team in the Elite Youth Europe Camp.

During IUP's 2018-19 season, Luciano was responsible for preseason and in-season individual workouts. IUP posted a 30-3 record, finished the year #2 in the NABC DII standings, and won a PSAC Championship. Following IUP's loss in the Sweet Sixteen, Luciano pivoted towards working with four of IUP's graduating seniors who went on to professional careers in Europe (Dutch Basketball League, Spanish ACB, NB I/A).

In the summer of 2019, before joining the Chancellors in the fall, Luciano split time between Amsterdam, Netherlands and Irvine, California to fulfill various player development roles. In Irvine, Luciano spent a month at the ASICS Headquarters working under Jordan Lawley, one of the world's top freelance NBA Skills Trainers. From there, he traveled back across the states and back to Western Europe to reconnect with professional players representing the Dutch Basketball League, the BNXT League, and respective national team players from both countries.

In Luciano's first season coaching with the St. Thomas More, the Chancellors posted a 34-10 overall record and made it to the National Prep School Quarterfinal. They finished the season ranked #10 by the National Prep School Poll. During his second year, although playing "scrimmage" games due to Covid, the Chancellors finished the season with a 25-4 mark. Last season, St. Thomas More finished the year totaling 25 wins and 14 losses--finishing the year in the Top 25 of the National Prep rankings. Back in 2015-16, Luciano played under Coach Jere Quinn as a member of a 31-6 Nationally ranked Chancellor team that finished the year a National Finalist. In Luciano's three-year span under Coach Quinn, the Chancellors have totaled 84 wins and 29 losses.

Luciano has compiled player development experience working with several players at the NCAA, Euro-League (Liga ACB, VTB United, Lega Serie A Italy, GBL Greece, NBL Australia, DBL, BNXT League), and NBA/G-League level.


head coach of prep 2 basketball
Cane Broome
Cane Broome rejoins the Chancellors for his third season with the basketball program, this time in a head coaching role following an elevation this past spring. After a successful and extensive collegiate and professional playing career, he has worked to pivot into roles as a coach, mentor, and educator. Cane's first intersection with St. Thomas More School came as an integral player with the 2014 National Finalist team.

After his time at STM, he was recruited to begin his college career at Sacred Heart University. During his sophomore season, Cane was named Northeast Conference Player of the Week three times. On February 20, 2016, he became the only player in the NCAA since 2010-11 to score at least 39 points while posting 6 rebounds and 6 assists without committing a turnover.

At the end of the 2016 regular season, Cane was named the Northeast Conference Men's Basketball Player of the Year, becoming only the second sophomore in the conference's history to do so. He averaged 23.1 points and 4.9 rebounds per game. In April of that very same spring, Cane announced that he would transfer to the University of Cincinnati and sit out a season. As a junior, he scored in double-figures seven times and considers his 16-point, five-assist performance against Xavier on December 2nd to be his best game.

Broome averaged 7.9 points per game as a junior on a 31-5 Bearcat team that earned a 2 seed in the NCAA tournament. As a senior, he was named captain and logged 8.3 points and 2.2 assists per outing. Broome signed with the St. John's Edge of the National Basketball League of Canada on October 11, 2019. On February 18, 2020, Broome was named National Basketball League of Canada player of the week after averaging 22.5 points per game in two victories. He averaged 13.9 points and 2.1 rebounds per game, earning league All-Rookie Team honors.
assistant athletic director AND DIRECTOR OF acTivities
Taylor Mulvey
Taylor Mulvey is entering his seventh year at St. Thomas More as the Director of College Placement. Mulvey returned to the Chancellors as the Developmental Team Head Coach in the fall of 2022 after a year coaching at the NCAA level with Connecticut College. In the fall of '23, Mulvey will be stepping away from his head coaching position to fulfill a role in administration, as he was promoted to be the Assistant Athletic Director as well as Director of Activities at St. Thomas More.

During Mulvey's five years leading the program, he compiled an 89-30 record with two SENE Championships, one Prep 6 Championship, and a Prep 2 NE Championship. When Mulvey stepped away to enter the college ranks, he maintained his responsibilities as Director of College Placement with St. Thomas More. During the 2021-22 season, the Camels doubled their wins from the previous two years combined, as well as hosted the NESCAC playoffs for the first time in 20 years.
In addition to carrying out the new roles of his promotion, Mulvey will remain involved with the basketball program and oversee the National Team, Developmental Team, and Varsity Team as an assistant coach. Mulvey played for Head Coach Jere Quinn back in 2012 and went on to receive a scholarship to play at Barry University (FL). Mulvey has had a hand in placing over sixty student-athletes since returning to the Chancellors and currently lives on campus with his wife, Jenna, where they both serve as dorm parents.
Assistant Coach
Dan Murphy
Dan Murphy rejoins the Chancellors for his second season as an assistant coach, in addition to serving as a faculty member in the history department. Prior to joining the Chancellors, Murphy was a member of King Rice's staff at Monmouth University. As special assistant to the head coach at Monmouth, Murphy was part of a staff that reached the MAAC finals in 2019 and won the MAAC regular season in 2021. Murphy served as the Academic Coordinator for the Men's Basketball program and oversaw the team's efforts in receiving back-to-back NCAA Academic Excellence Awards. This was the first time in school history the men's basketball team received this award. In addition to his academic responsibilities, Murphy developed scouting reports and participated in all basketball related aspects of the program.

Before joining Monmouth, Murphy was an assistant coach for Naismith Basketball Hall of Fame inductee, Bob Hurley Sr., at St. Anthony High School in Jersey City. At St. Anthony High School, Murphy was part of a staff that finished the season a perfect 32-0 and won the New Jersey Tournament of Champions and finished #3 in the National High School rankings. In Murphy's four seasons at St. Anthony, the team's record was 111-11. At St. Anthony, Murphy coached over 30 college scholarship players who went on to play in conferences such as the Big East, ACC, Big 10, and AAC.

Additionally, Murphy has coached with Athletes in Action, directing basketball camps in Latvia and Poland.

Murphy resides on campus at St. Thomas More with his wife Hannah and three children: Abigail, Leah, and James.